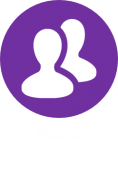 Our personal development programmes range from self awareness and self help units to those which are useful and informative in day to day life.
We will regularly be adding more. Please visit our site often to check what is available and what is coming soon.
Expand below to find out more about some of our programmes.
Blueprint Programmes for men and women living with abuse
Blueprint programmes are a combination of tried and tested learning and Max Chadwick and Tammi Owen's vast knowledge of working with men and women who have been living with abuse.
This programme, has been run face to face in the Vale of Glamorgan and Cardiff and that version of our programme was the only intervention recognised by South Wales Probation Trust, South Wales Police, Social Services and court mandated from an outside agency from 2011 to 2014, as part of working in partnership with 3rd sector domestic abuse organisations and Probation.
The Blueprint personal development courses available on the Brightlink website are online courses which can be accessed through your desktop, mobile or tablet, they are a foundation for men or women who feel they are living with abuse to understand communication and perception. It may be that the online programme has been recommended to you by an organisation or professional. The courses are for awareness only and if at any time you feel you may be in danger or may cause harm to anyone else you should immediately contact emergency services to help you.
You can work through the four modules at your own pace securely and confidently during a three month subscription. There is additional support if you need it, which can be accessed by email at tammi&max@heroestraining.co.uk
As an awareness course there are sections to read, exercises to do and reflection that you should undertake.  At the end of each section there are tried and tested tools and techniques you can try out on your own or with a friend, partner or work colleague. After completing the course, you will receive a completion certificate.
*Heroes programmes are solely the intellectual property of Heroes Training Ltd. Brightlink Learning claims no rights over courses and their content and can take no responsibility for the content or its use.
By purchasing, reading and otherwise participating in Heroes programmes/ units/ courses from the Brightlink Learning website, or using our blogs, e-mails, videos, programmes, services, and/or products you are agreeing to all our terms and conditions. Thus, if you do not agree, please STOP now, and do not use our website, blog, e-mails, videos, programmes, services, or products.
The information contained on the Brightlink Learning website, blog, guest blogs, e-mails, videos, programmes, services and/or products is for educational and information purposes only, and is made available to you as awareness for your own use. While we draw on our prior professional training and experience, we are not supporting you directly, providing therapy or counselling services and we and our materials, in no way replace any emergency or other critical expert services via this website. If you or anyone else is in danger please contact the emergency services immediately
Click on a course name to find out more information about the course